Over a decade has passed since JJ and Tara opened Proven K9 Training as a small operation training dogs and selling some pet supplies. Since then a world has opened up that allows them to serve millions of people across the country!
The Proven K9 Training Team announced the  2018 opening of their Amarillo, Tx location. Be sure to find them on Facebook as well as on Instagram.
In 2020 Proven K9 Training expanded with two NEW locations in the Dallas/Fort Worth Area and Lubbock Texas. This allowed Proven K9 Training to offer pet dog obedience at the highest level to more than 7 million people.
In April of 2022 Proven K9 Training opened for pet dog obedience  training in the Midwest! Serving pet dog training for the Hannibal/Quincy area of Missouri and Illinois.
Meet the Staff!
Joseph "JJ" Siebrasse (Owner)
JJ founded Proven Dog Training LLC in Clayton, New Mexico, after completing training at the US K9 Academy and Police Dog Training Center in Miami Florida. JJ is a veteran, of the United States Army and former corrections officer as well as a Special Deputy for Union County Sheriff's Office. He enjoys living on the edge as a paratrooper and a Ranger.  Since he was a small child, JJ has had a love for dogs and helping others, now he shares his passion and vision with others to help them have better relationships with their owners. JJ had the honor of being a helper in the Army for many MWD.  JJ was a Certified Officer by the State of New Mexico to which he worked corrections as well as a Sworn Special Deputy in Union County NM. Living to serve his community, JJ has chaired many community boards that help with outreach and economic development. JJ is known for his willingness to give all his years of experience to anyone and everyone.
Tara Siebrasse (Owner)
Tara Spent the largest part of her life as a stay at home mom of six kids. During this time she went to college for Accounting and Graphic Arts. She then joined the workforce in the New Mexico Department of Corrections After 8 years she left corrections and managed one of the largest ranching operations in the Texas Panhandle. With many classes and research into advertising, business management, employee management Tara runs the day to day operations for Proven K9 Training. If you call us, she will be the first voice you hear. Tara has an amazing heart to serve our clients at the highest level. While not a "Dog Trainer", she holds a wealth of knowledge! So rest assured, you will always get someone knowledgeable when you ring our number.
Demy Card (Head Trainer AMA)
Demy is a long time dog trainer, horse lover and competitive at a national level in animal showing. Demy graduated West Texas University with a degree in Equine Business Management, is a Certified Pet Dog Obedience Trainer through Proven K9 Training, Former Kennel Master for all locations nationwide, Mentor Trainer for apprenticeships and Head Trainer for our Amarillo, Tx Location. Demy has a natural ability to help dogs become comfortable with growth and socialization. She is a strong minded and willed leader that most enjoy following. You can trust that any trainer under her charge is going to be trained to the highest level and held to the highest standard.
Jerrid Hopwood (Head Trainer Midwest)
Jerrid is a Veteran of the United States Army. His love for dogs is shown every time he grabs a leash! Jerrid enjoys working on fast cars and relaxing by the beach. With a strong drive to succeed, Jerrid has pushed through a Proven K9 Training Scent Detection Handlers Course earning the official title of K9 Handler. After a year of Handling, Training, Learning and Growing Jerrid came back to Proven K9  Training to be the first ever trainer to accelerate through the trainers certification in record time! Since that time his motivation has placed him as the Head Trainer for our Midwest location servicing the Hannibal Mo/Quincy ILL area. His self driven dedication has ensured the dogs that are the best the can be.
Beverly(Bev) Massengale (Kennel Master All Locations) (Certified Trainer AMA)
Bev is the epitome of kindness and honest caring that you could ever find in a trainer or person! Beverly is an artist that loves vibrant colors that bring joy to everyone. She is a soon to be graduate of West Texas University with a degree in Behavior Science. As a Certified Trainer she has proven to get the highest response from dogs that do not open up easily for others. Bev has climbed the ladder from Kennel Tech to Certified Trainer with the additional job of Head Kennel Tech (AMA) and is now the Kennel Master with over watch of every single dog that comes to any of our location. Bev continues to be a motivator and leader for every single member of the Proven K9 Training team. Professionalism is spread in any environment she comes into. A giving heart is what you will be met with and that transfers right over to your furry friend.
Lemuel "Jordon" Skaggs (Head Kennel Tech LBK)(Certified Trainer)
Jordon is  a Veteran of the United States Army. Known for being everyone's friend upon introduction, Jordon is a crowd favorite everywhere he goes. With the drive of an infantryman, we always know he will make the mission happen! In his time off he enjoys golfing, BBQ, fishing and snowboarding. Currently Jordon is a horticulture student at Texas Tech University. Always striving to better himself, Jordon has continued his dog training knowledge through courses from across the nation. Many times he has joined in on our K9 training by decoying for the dogs that bite. Jordon started with us as an apprentice, moved to a Proven k9 Training Certified Trainer and then was promoted to the added position of Head Kennel Tech for the Lubbock location.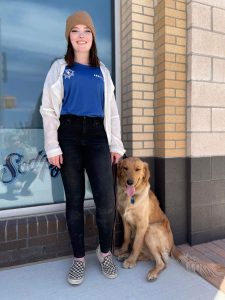 Zaidee (Z) Harle (Certified Trainer AMA)
Zaidee is a kindred spirit with an amazing "go getter" attitude. With a heart made of gold, Zaidee gives her all to every dog she comes in contact with. Zaidee enjoys spending her time learning and growing her knowledge base. Z runs a small zoo in her house that she dedicates a large amount of her personal life to. Caring for dogs, cats, snakes, and sugar gliders is a chore in itself. She is a West Texas University Student for Pre Vet, as well, she is a certified EMT. A true understanding of how to have an emotional connection with your dog allows you to rest at ease knowing you and your dog are in the best hands.
Cameron Bradberry (Certified Trainer LBK)
Cameron is a local graduate of Lubbock schools. With a passion for sports, Cameron plays basketball and is a Texas Hold'em fanatic as well. He comes to us as a locksmith with a heart for dogs.He also hold his Texas Private Investigators License.  Cameron completed the Proven K9 Training 640 Hour Apprenticeship and gained his Certified Trainer title. His favorite part of dog training is the bonding process. So just know if he is your trainer, your dog is getting the most cuddles!
Delanie Rhoades (Certified Trainer DFW)
Delaine came to us with a bit of experience training for another company in DFW. Delaine is a self motivated person with the drive to continue growing in every way. She also loves to motivate others through her own past experience. She likes to quilt in her downtime as well is building up her roller skating skills. Delaine has completed our apprenticeship program and is quickly becoming a leader in our DFW location as a Certified Trainer.
Cristian (Cris) Sanchez (Apprentice AMA) 
Cristian is a US Marine Corps Veteran that is ready and willing to be a leader for all of our furry friends. Cris is a fear facing kind of guy! He can't swim but jumps off high cliffs  in deep waters. Afraid of heights but is a rock climber, repeler and jumps out of helicopters.  With a start at Starmark Dog Training Academy Christian came to us with a head start. He is currently attending our apprenticeship program with hopes of accelerating through the process. Once certified Cristian will be a go to trainer without a doubt! When Cristian can find some down time, he enjoys rock climbing and of course has his dogs with him!!
Mia Perkins (Apprentice DFW)
More to come!!!
1
1
1
PK9's advanced knowledge of obedience and a vast amount of ways to gain obedience has led them to be an industry leader on many levels. The ability to get to train with the Proven K9 Training Team is a true experience no one should miss out on. Fill out the contact list to the right for your chance to grow with your dog.
Proven K9 Training specializes in training and helping PET DOG owners better understand their dogs through obedience.At Proven K9 Training LLC., we hope to help every dog and their owners to better understand each other and what each requires from the other. With patience and experience, The PK9 crew has greatly impacted many families. Building confidence in both the handler and the dog goes a very long way towards a long fruitful relationship between dog and human.
Proven Dog Training Awards and Certifications/Accolades
---
2022 Chamber Business Excellence Award in the Top Business category
VOTED BEST DOG TRAINING TEAM IN THE TEXAS PANHANDLE 2021
Clayton Union County Chamber of Commerce 2014 Rookie Business of the Year
ABC Channel 7  AMA Expert for Dog Behavior
News Channel 10 AMA Expert for Dog Behavior
Fox 2 STL Canine Expert
KLMX 97.5 Lead Dog Expert
KLMX 1450AM  Lead Dog Expert
American Kennel Club Evaluator
Instructor certification US K9 Academy & Police dog training center
CANINE BEHAVIOR CERTIFICATION USK9A
Drug Beat National Certifying Official
Multiple K9 Handler certifications over many years through numerous certifying agencies
Multiple Decoy certifications from many different agencies.